Mission
Clean Earth,Turn Waste into Treasure
Vision
To be the Global Technology Leader in Functional Recycling Fibers
Position
Functional Recycling Fiber Technology Solutions
Core Values
Innovation、Service、Sustainability、Value
Adhere to the Green Concept, Build A Responsible Enterprise (From the Perspective of Society)
At Cyclone Technology, we stay committed to the mission of "Clean Earth, Turning Trash into Treasure". Using recycled waste as raw materials, Cyclone Technology Environmental Recycled Fiber Project is able to clean 1.2 million bottles every hour, 20,000 bottles every minute, and 333 bottles per second, 30,000 pieces of clothes per hour, and 500 pieces of clothes per minute according to the current capacity.
Research shows that recycling 1 ton of waste bottles can reduce 1.7 tons of carbon emissions, equivalent to the daily carbon absorption of 339 trees; recycling 1 ton of used clothing can reduce 3.6 tons of carbon emissions, equivalent to the daily carbon absorption of 716 trees.
After the company's 300,000-ton green fiber project is completed and put into production, the company can save 880,000 tons of carbon emissions annually, help the country achieve the dual carbon goal, and save a large number of non-renewable petroleum resources, so as to help ensure national energy.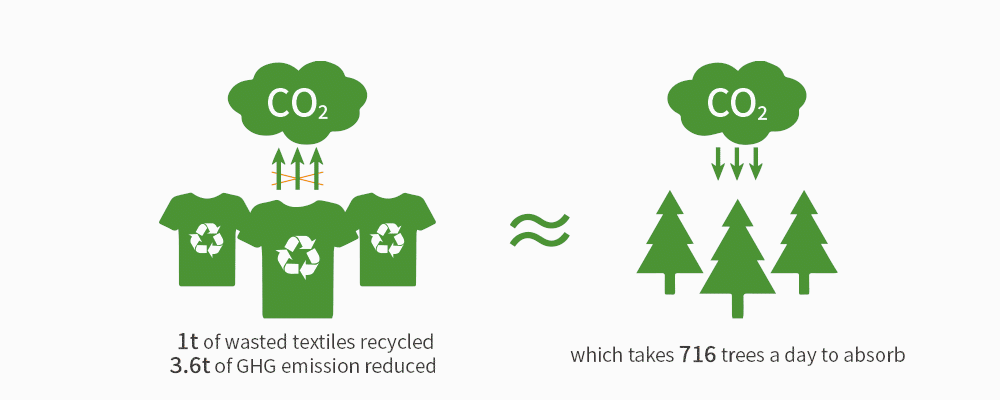 Focus on International Cooperation, Build A Good Business Reputation (From the Perspective of Customer)
Cyclone Technology is committed to promoting the domestic and international dual cycle and leading the enterprise to stand at the forefront of the international market. Our company works to vigorously expand the international market by identifying the international market trend. We have established a good strategic cooperation relationship with many international customers
Provide High-quality Green Products, Serve International First-tier Brands (From the Perspective of the Company)
Upholding our strategy of providing functional & recycled fiber technology solutions, Cyclone Technology strives to serve the globe with functional, environmental, and top-quality recycled textile technology solutions. Through independent scientific and technological innovation, we master key technologies. We are devoted to researching and developing, designing, and producing functional green yarn. Our products include recycled polyester filament, recycled polyester dyed yarn, recycled composite yarn, and recycled functional yarn, and etc. We look to produce high value products, and provide high-quality, environmental and green products for the world's leading sports brands, so as to achieve win-win cooperation and high-quality develop.